WHY CHOOSE THE SAYLES GROUP
OUR GOAL IS YOUR SUCCESS!
The Sayles Group is a Las Vegas based full-service Sales and Business Development Consulting group.
We partner with companies, individuals, and non-profit organizations to strategically engage with their targeted markets and to evolve, promote, and protect their brands and reputations while doing so!
We fully embrace the "sexy" side of sales and business development and created a one stop shop boutique for companies, individuals, and non- profit organizations branding and marketing needs.
We are often referred by our clients as emerging leaders in sales and business development due to incorporating community and public relations, graphic design, events, marketing, advertising, and other unique and colorful ideas when creating strategies in growing the client's bottom line!
WE ARE SALES, BUSINESS DEVELOPMENT, COMMUNITY & PUBLIC RELATIONS, MARKETING, BRANDING, ADVERTISING, GRAPHIC DESIGN, & SPECIAL EVENTS CONSULTING FIRM.
WELCOME TO THE SAYLES GROUP
Our goal is ensuring your success!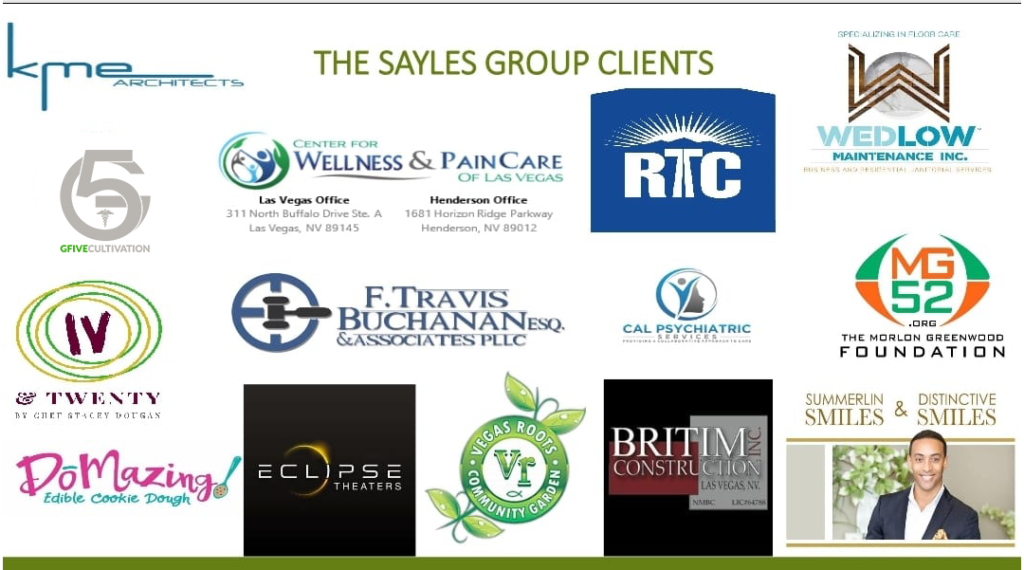 The Sayles Group is not a one trick pony! Combining our years of professional development along with over twenty years of experience in a variety of industries, we are confident in our ability to exceed standards.
The Next Step Starts HERE!